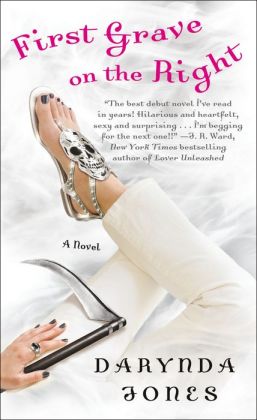 Welcome! Today we're kicking off the Two Week Midnight Justice Print-stravaganza with the Beyond Awesome Darynda Jones. The NYT and USAToday best-selling Charley Davidson series just keeps getting better with each book. So for those of you who have not yet discovered this thoroughly addicting series, I'm giving away a hardback copy of our first exposure to Charley, First Grave on the Right, today.
In addition to being a Charley fangirl, I'm lucky enough to know the charming and talented Ms. Jones and I badgered asked her to swing by today and chat a bit about Charley and First Grave. And now, without further ado, I give you, Darynda!
It's Not Easy Being Grim
So, what if the grim reaper were just misunderstood? You know, a being not made of death and darkness and creepy skeletal remains but light? And what if her light—yes, HER light—were really a bright, shiny beacon that lured those departed who were left on Earth toward her so they could cross to the other side? Of course, in the process she would attract all kinds of trouble, everything from demons who try to kill her to ghosts who try to kill her to, well, humans who try to kill her.

That is Charlotte "Charley" Davidson, the heroine of First Grave on the Right, in a nutshell. And while she'd like to believe she's a complete badass, she's really more of an accident-prone, slightly schizophrenic girl from Albuquerque who takes the complications of ADD to a whole new level. Not to mention the fact that she's the only grim reaper this side of forever.

Okay, but why the grim reaper, you might ask. That one is simple. As an aspiring author, I wanted to get noticed. I wanted something different that would pique the interest of agents and editors alike. Fortunately for me, Charley did just that. First, she won the 2009 RWA Golden Heart for Best Paranormal Romance, then she landed me an amazing agent. Not long after that, she secured a three-book deal for the rights to her story with St. Martin's Press. Her journey has been an incredible one and the fun is just beginning.

In First Grave on the Right, Charley Davidson uses her reaper abilities to help her succeed as a private investigator. It's a natural progression from her childhood. Since she was five, she's been helping her detective father solve crimes. In First Grave, three lawyers from the same law firm are murdered, and they come to Charley to find their killer. At the same time, she's dealing with a being she calls the Big Bad. He's more powerful, and definitely sexier, than any specter she's ever come across. With the help of some living and some not-so-living associates, Charley sets out to solve the highest profile case of the year and discovers that dodging bullets isn't nearly as dangerous as falling in love.

***

Here's a quick excerpt:
In too much pain to stretch, I let a lengthy yawn overtake me instead, winced at the soreness shooting through my jaw, then looked back at Dead Guy. He was blurry. Not because he was dead, but because it was 4:34 a.m. And I'd recently had my ass kicked.
"Hi," he said nervously. He had a wrinkled suit, round- rimmed glasses, and mussed hair that made him look part young-wizard-we- all- know-and-love and part mad scientist. He also had two bullet holes on the side of his head with blood streaking down his right temple and cheek. None of these details were a problem. The problem resided in the fact that he was in my bedroom. In the wee hours of dawn. Standing over me like a dead Peeping Tom.
I eyed him with my infamous death stare, second only to my infamous fluster stare, and got a response immediately.
"Sorry, sorry," he said, stumbling over his words, "didn't mean to frighten you."
Did I look frightened? Clearly my death stare needed work.
Ignoring him, I inched out of bed. I had on a Scorpions hockey jersey I'd snatched off a goalie and a pair of plaid boxers-same team, different position. Chihuahuas, tequila, and strip poker. A night that is forever etched at the top of my Things I'll Never Do Again list.
With teeth clenched in agony, I dragged all 470 throbbing pounds toward the kitchen and, more importantly, the coffeepot. Caffeine would chisel the pounds off, and I'd be back to my normal weight in no time.
Because my apartment was roughly the size of a Cheez-It, it didn't take me long to feel my way to the kitchen in the dark. Dead Guy followed me. They always follow me. I could only pray this one would keep his mouth shut long enough for the caffeine to kick in, but alas, no such luck.
I'd barely pressed the on button when he started in.
"Um, yeah," he said from the doorway, "it's just that I was murdered yesterday, and I was told you were the one to see."
***
Thank you so much for having me today. It's always an honor to be on one of my Ruby Sisters' blogs. Cheers!
What do you think, reader-friends? Worth playing for? Hells yeah, amirite? Just leave a comment to be entered to win First Grave on the Right. (The Small Print: US/Canada addresses only. Prizes awarded at midnight Pacific. If you do not leave a contact email, please check back in the comment stream within 24 hours to claim your prize.)